PUBLIC RELATIONS
Plasmas for all
A great many everyday technologies would not exist without plasmas. The teams of the Collaborative Research Centres want to share knowledge about their relevance with the public.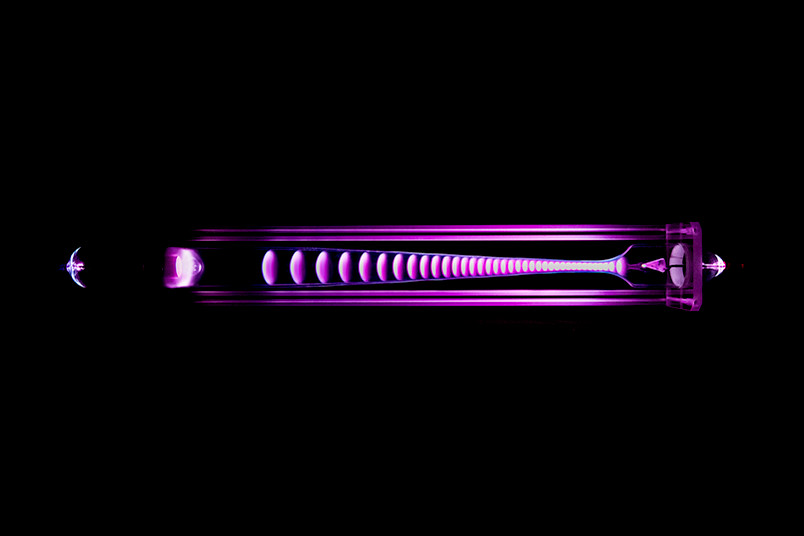 Driving the plasma van to school
For many years, the plasma researchers at RUB have been committed to introducing plasmas to school students in different year groups. "Physics teachers sometimes conduct experiments that involve plasmas, but the word plasma doesn't even appear in the curriculum," explains Science Manager Dr. Marina Prenzel. In order to familiarise secondary school students with the concept of a plasma, the SFB team, in cooperation with Professor Heiko Krabbe and other physics didactics experts, has constructed various plasma experiments that can be stowed away in boxes and handily transported in a minibus. The researchers use them for interesting 90-minute workshops in sixth-form classes, where students can do their own experiments and learn about different applications of plasmas. "This is how we want to create awareness that plasmas are extremely important for many of our current technologies," says Prenzel.
Students evaluate research projects
Students should not only be given the chance to learn what a plasma actually is and where it is used. Rather, the SFB team is also currently setting up a project in collaboration with the physics didactics department that aims at promoting the evaluation skills of adolescents and young adults. Here, students are to gain insights into various plasma research projects and evaluate which of these projects they would support. Another goal is to convey the significance of plasmas for the challenges of global warming.
More than 20 years of plasma summer school
For more than 20 years, plasma researchers at RUB have been organising an annual international summer school for Master's students and doctoral candidates. It originally emerged from a European Erasmus project, acquired under the auspices of the Eind­hoven University of Technology. When the funding ran out in 2000, the RUB team dedicated itself to continuing it. "The school is practically always overbooked," says co-organiser Dr. Marc Böke. The 80 to 90 participants each year and the lecturers come from all over the world. The aim of the seven-day school is to give them insights into all the major technically relevant plasmas and, at the same time, to enable them to network with each other and with established researchers in the field. "Some of the former participants are now themselves running plasma labs," says Böke. The RUB team hopes to resume the successful format soon, despite the coronavirus situation.
adapted from Julia Weiler, RUB